Vol II, Issue 6
M&A Market Update
The Latest Deals and Insights
Who's buying? Who's selling? MarshBerry highlights the current M&A market and provides a look at recent transaction activity.
Through July 31, 2023, there were 338 announced merger & acquisition (M&A) transactions in the U.S.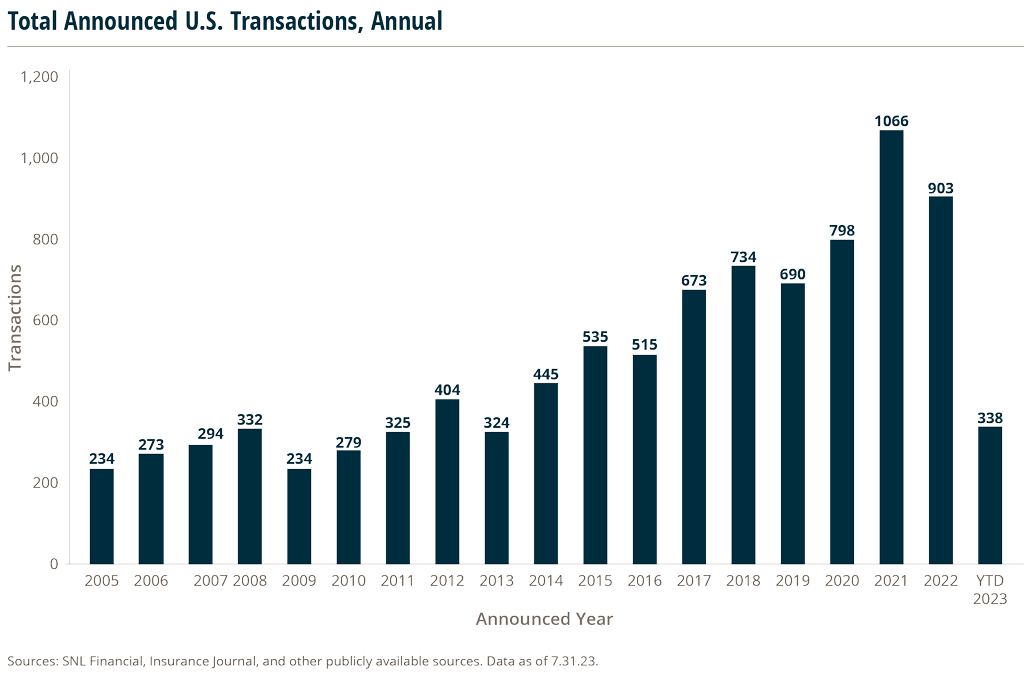 Private capital-backed buyers accounted for 245 of the 338 transactions (72.5%) through July, which is consistent with the proportion of announced transactions in 2022. Total deals by these buyers increased at a Compound Annual Growth Rate (CAGR) of 11.1% since 2018, with a marked increase after the onset of the pandemic.
Through July, Independent agencies as buyers accounted for 48 transactions (or 14.2%) – down from 17.2% in 2022. Bank and thrift as buyers accounted for four announced deals (or 1.2%) – down from 2% in 2022.
Deal activity from the marketplace's most active acquirers remains strong in 2023. Ten buyers accounted for 56.0% of all announced transactions, while the top four (BroadStreet Partners, Inc., Hub International Limited, Inszone Insurance Services, Inc., and World Insurance Associates LLC) account for 31.3% of the 338 total transactions.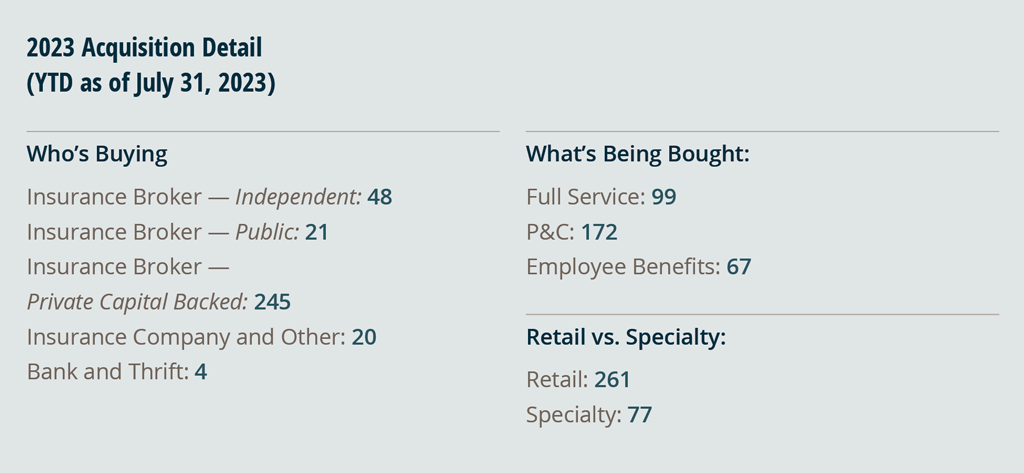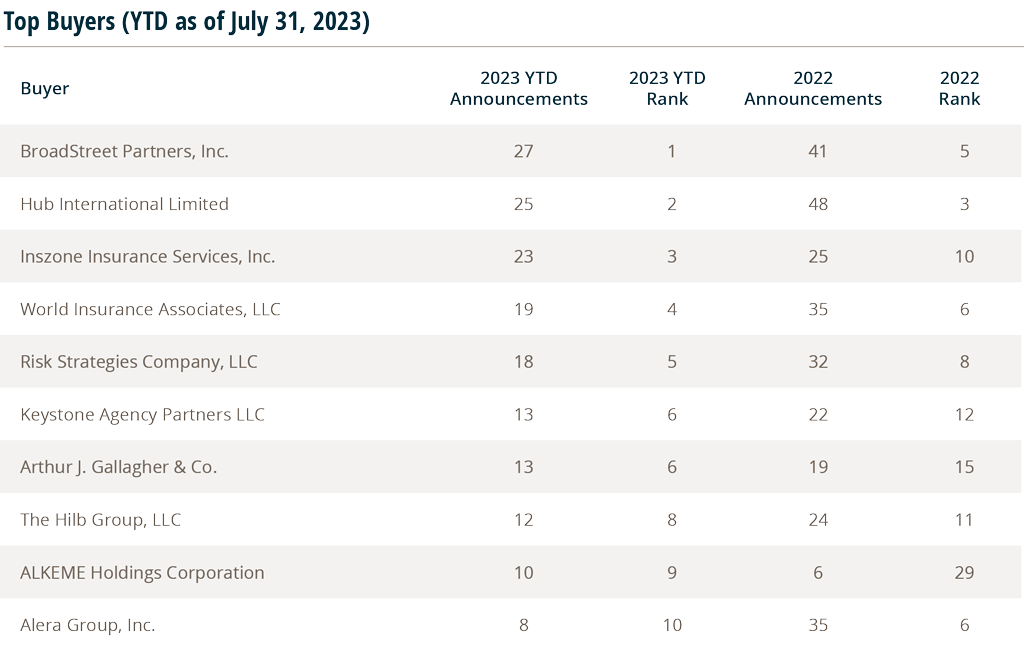 Deal Spotlight
MarshBerry advises The Graham Company in sell side deal to Marsh & McLennan Agency, LLC
August 6, 2023: The Graham Company, an insurance and employee benefits broker that partners with business owners in high-risk industries including construction, manufacturing, distribution, chemical, health and human services and others, was acquired by Marsh & McLennan Agency, LLC. MarshBerry served as the exclusive financial advisor to The Graham Company on the transaction.
Based in Philadelphia, PA, The Graham Company has been a staple in their market for over 65 years. In this time, the firm has grown from six employees with revenue of $300,000 to a team of more than 200 employees with revenue surpassing $75 million – placing them in the Top 100 Insurance Agencies & Brokers in the U.S.
"In 2017, MarshBerry was privileged to lead The Graham Company through its transition to become a 100%-ESOP owned firm," said Phil Trem, MarshBerry President – Financial Advisory. "With Marsh & McLennan Agency as their new market partner, their firm can continue to thrive while remaining committed to their clients and community and most importantly creating value for their employees. Once again, MarshBerry's unique value proposition allows us to help firms of any size and composition evolve their business and choose the path that's right for them. We are excited for the future of both of these firms."

---
Investment banking services in the USA offered through MarshBerry Capital, LLC, Member FINRA and SIPC, and an affiliate of Marsh, Berry & Company, LLC, 28601 Chagrin Blvd, Suite 400, Woodmere, OH 44122 (440) 354-3230
Disclosure: All deal count metrics are inclusive of completed deals with U.S. targets only. Scorecard year-to-date totals may change from month to month should an acquirer notify MarshBerry or the public of a prior acquisition. 2022 statistics are preliminary and may change in future publications. Please feel free to send any announcements to M&A@MarshBerry.com.
Source: S&P Global Market Intelligence, http://www.insurancejournal.com, http://www.businessinsurance.com and other publicly available sources.