Vol II, Issue 6
Focused Insights: The Four Stages of a Successful Compensation Strategy
In the dynamic world of insurance, producers play a pivotal role in driving business growth and customer satisfaction.
Aimed at striking the right balance between incentivizing new talent and rewarding seasoned veterans, understanding the nuances of these tenure-based compensation models becomes paramount for industry success.
MarshBerry's 2023 Compensation Review has identified a correlation between productivity and compensation. This study segments firms into three groups based on service personnel productivity, measured by commissions & fees handled: the top 25%, the middle 50%, and the lowest 25%.
The study determined that top-performing firms spend 33% more per employee than those in the lowest 25% group. However, they also have significantly higher returns with an average productivity that is 80% higher than the lowest 25% and an organic growth rate that is 75% higher.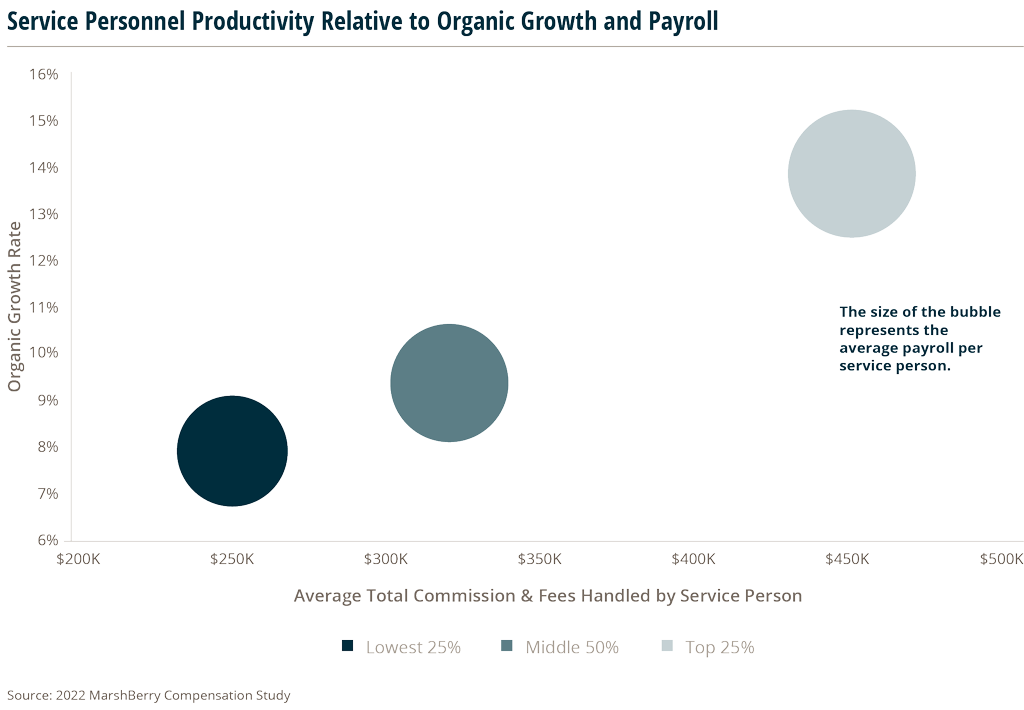 Stage 1: Appointment based compensation for unvalidated producers
The lifecycle of compensation models begins with new producers. Setting a stable ground at this stage is imperative to attract top talent and retain high earners. Pay too much with little earnings coming back, and profits suffer. But if you do not pay enough, top performers may jump ship. Striking the balance between paying well and earning a profit means firms must prioritize a success-based compensation plan.
This can be accomplished through appointment-based compensation models where new producers are encouraged to open doors. They are given a salary plus new business commission, but the producer's base salary is contingent on them hitting a target number of appointments per month. If the producer fails to complete the set number of appointments, then there is a deduction in their salary based on the percentage of appointments missed.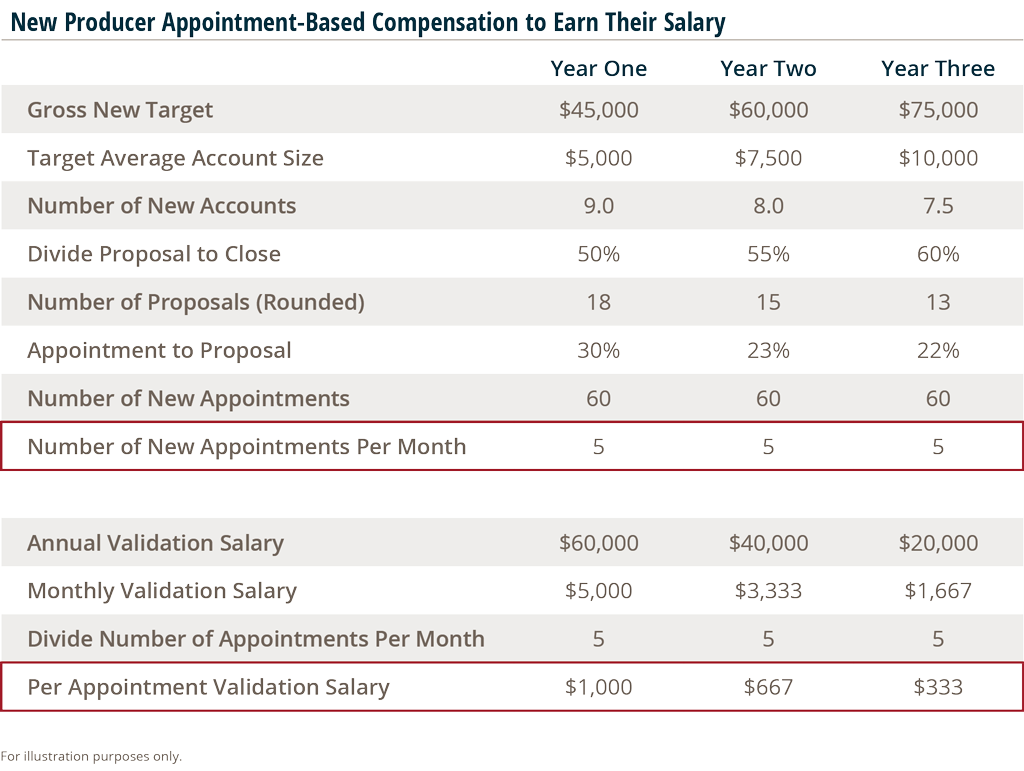 This provides incentives for emerging producers to work towards new business, giving them the ability to control their own salary destiny and keeps the focus on generating new opportunities early in their career. This also provides them with a safe base salary while they work up to a commission-based pay structure once they have an established book of business to become validated. By providing producers with clear goals and pay expectations, it gives them insight into their pay structure and greater future security.
In this model, it's key that firms identify the characteristics of a qualified appointment. Things to consider include:
Must be with a decision maker from the prospect.
Must be within an industry where you have the ability to write business.
Must be over a certain revenue or revenue potential threshold.
If these requirements are met, then a manager can approve the appointment to count towards the producer's total. This model can run until a producer validates, moving into the next stage of compensation structures. But this should also work in a declining factor, lowering the amount of base salary each year as the amount of new and renewal commission earned increases. The number of appointments may also increase as they improve their sales technique to keep it competitive. This keeps their W-2 increasing until they move to the next stage.
Stage 2: Encourage validated producers to chase new opportunities
Once producers validate, they move into the more traditional compensation model. Historically this comes as 40% new commission and 30% renewal. MarshBerry typically recommends a 10 to 15 percentage point difference between new and renewal rates.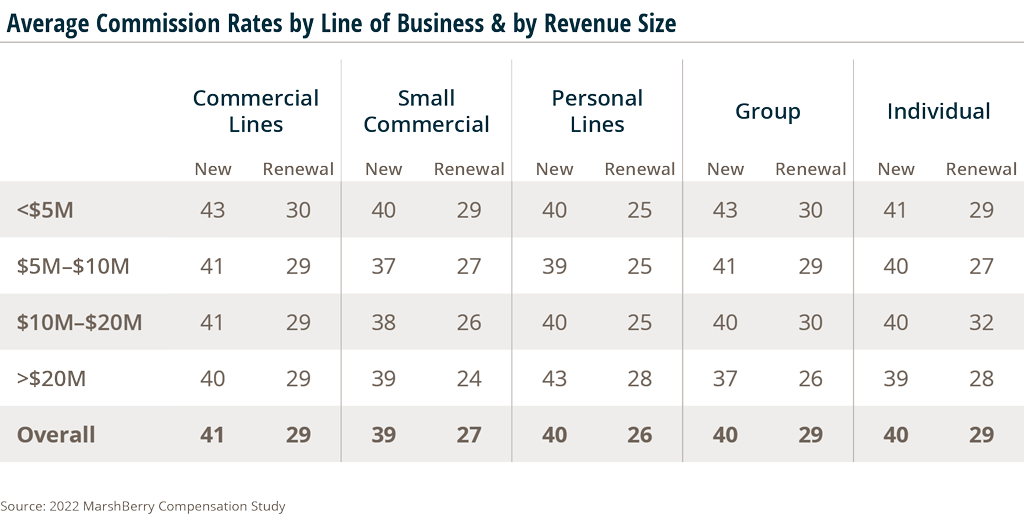 Validated producers cannot coast by, complacent with compensation from renewals. No growth or new business will come if producers stop attracting new clients and policies.
This is implemented by increasing the percentage producers receive on new business if they hit benchmark goals. This works retroactively as well, if they hit their sales goal halfway through the year, all commission for the year will increase for future and past business. This is the carrot part of the strategy.


The stick aspect of the compensation plan should never be for new business, only renewal. If producers do not hit their goal for new business, their renewal commission for the next year will decrease.
This penalizes those who do not hit goals and rewards those who meet or exceed goals, keeping the focus on customer retention and attraction, which prevents complacency. It also keeps movement and pressure on producers, encouraging them to become the next million-dollar producer.
Stage 3: Support your million-dollar producers
Once producers get to the coveted, million-dollar level, they may begin to get bogged down and overwhelmed by handling so many policies.
This can come in the form of an administrative assistant, account executive or other support staff. Small business units can also be utilized for passing down smaller accounts – or basic renewal and maintenance needs.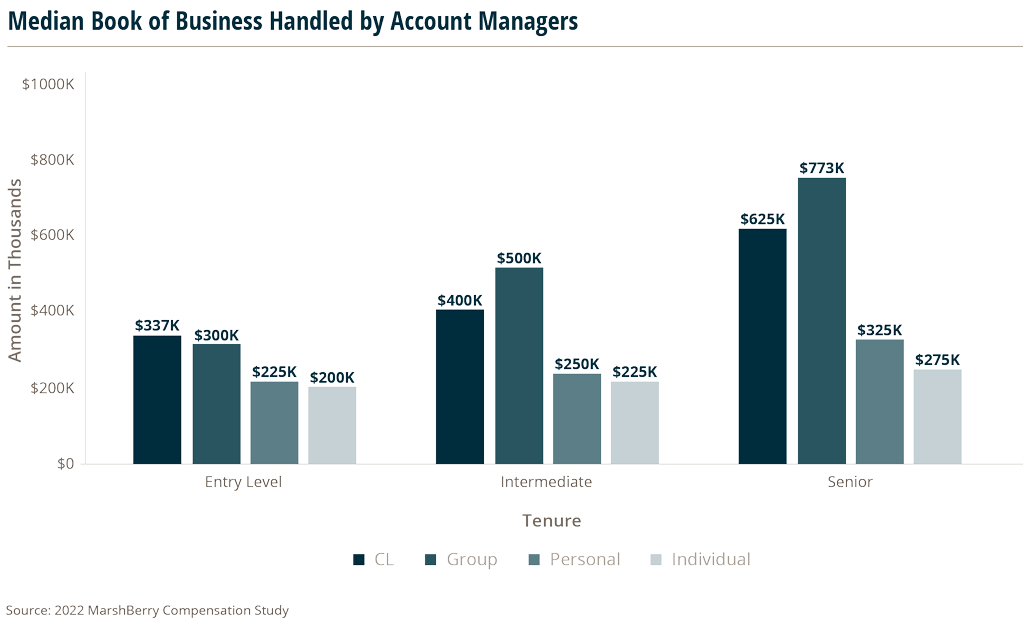 These actions can open up the producer's time and energy to focus on more high value accounts. It's key to identify these capacity restraints as soon as they occur to prevent a bottle neck from hindering the work of the producer.
Accounts can also be taken from the bottom of a high producer's book and moved to new producers or house accounts. By removing these accounts and giving the producer compensation up front for the future year commission, it allows them more time to chase after newer, larger accounts. This creates a cadence of moving the smallest accounts off their books each year, allowing not only their book to grow but also their average account size to increase.
Stage 4: Plan for perpetuation and long-term firm success
Clients and policies do not retire with producers. Perpetuation plans to pass down books of business must be established to incentivize retiring producers to maintain policies and assist in the development of the next generation.
Equity based compensation models can encourage growth and continued support of the business beyond the retirement of the producer, allowing the firm to seamlessly pass over clients and remain successful after the departure of a top producer. Having ownership stake in the firm incentivizes the retiring producer to create a smooth transition because they are invested in the business through their equity.
When equity models are not an option, mentorship models can successfully be used to perpetuate books of business. By monetizing the mentorship model, outgoing producers help train and establish newer producers while also continuing to reap the benefits.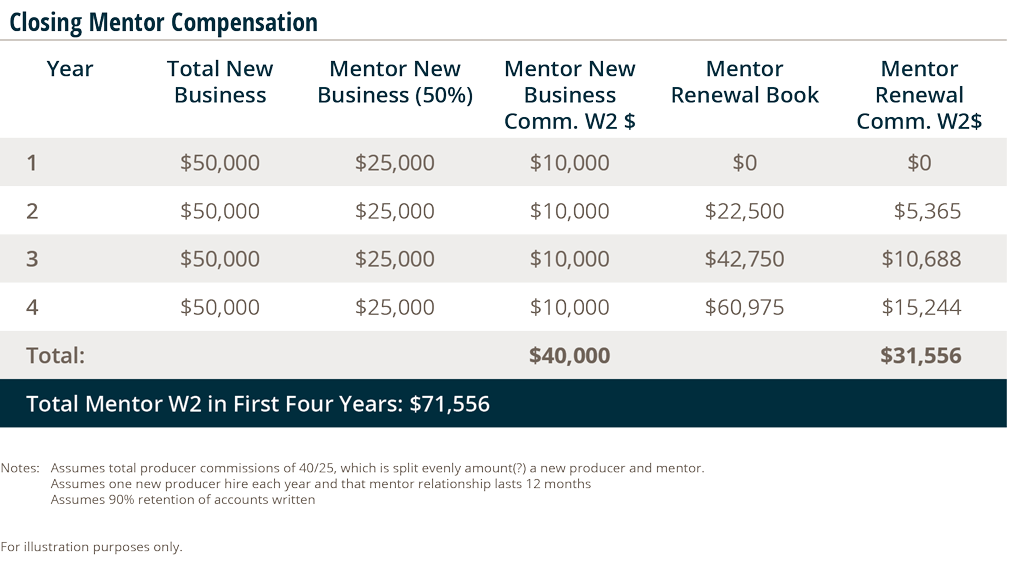 This can be accomplished by splitting renewal commission between the mentee and mentor, over time transitioning the renewal commission mostly to the mentee. As the transition occurs, and the newer producer takes on more of the work for the account, the portion of commission they receive also increases. This also rewards the outgoing producer for the initial work they did to earn the account and the relationship they built with the client. Using this strategy to perpetuate their book of business prevents a producer from leaving abruptly, risking the loss of vital relationships and clients.
Firms can also go beyond this, offering a reward for the success of the perpetuation. For example, offer the retiring producer a monetary reward if a certain number of firms renew after a chosen number of years. This draws out the incentive of producers to properly pass down their books.
Understanding the various stages producers go through in their career is key to figuring out what their priorities and proper incentives are. In doing this, firms can not only reap the benefits from increased sales, but also properly reward loyal producers.
---
For more information on the latest trends on compensation, consult MarshBerry's 2023 Agency & Brokerage Compensation Review study. This one-of-a-kind industry report offers a comprehensive look at current compensation data for 31 roles commonly found across insurance agents and brokers.