Vol II, Issue 1
M&A Market Update
The Latest Deals and Insights
Who's buying? Who's selling? And why should you care? Phil Trem, MarshBerry's President of Financial Advisory, highlights the current M&A market and provides a look at transactions in December 2022.
Headwinds Aside, Insurance Brokerage M&A In 2022 Delivers a Solid Year
2022 was a year of challenging headwinds for M&A activity. With the backdrop of global macroeconomic hardships including record inflation, a slowing economy, labor shortages and the Federal Reserve (Fed) raising interest rates to its highest level in 15 years — the insurance brokerage M&A landscape had an uphill battle from the start. It didn't help that 2021 set new records and was the fifth straight year for highs in M&A deals and valuation multiples. 2022 was also disadvantaged by the number of deals closed in Q4 2021 — driven by sellers that were concerned about a potential federal capital gains tax increase in 2022. This resulted in many transactions that would have normally closed in Q1 of 2022 to be rushed over the finish line before year end. Expectations for 2022 were tempered.
But despite the hurdles, 2022's final deal count will likely qualify as the second highest year on record — which is not bad, considering.
As of January 20, 2023, there were 748 announced M&A transactions in the U.S. in 2022. This represents a 18.9% decrease compared to 2021 and a Compound Average Growth Rate (CAGR) of 6.6% since 2018.
Private Capital backed buyers accounted for 552 of the 748 transactions (73.7%) in 2022, as they continued expanding their presence in the marketplace. Independent agencies accounted for 96 (or 13%) of the total deal count, while deals involving specialty distributors as targets accounted for 157 (or 20.9%) of the total 748 deals in 2022. Specialty firm deals increased by a CAGR of 17% over the past five years, a trend that is anticipated to continue as traditional retail brokers expand into the wholesale and delegated authority space.
The top ten most active buyers accounted for 365 of the 748 transactions (48.7%), while the top three (Acrisure, LLC, Hub International Limited, and Peter C. Foy & Associates Insurance Services, LLC) accounted for 19.2% of total transactions.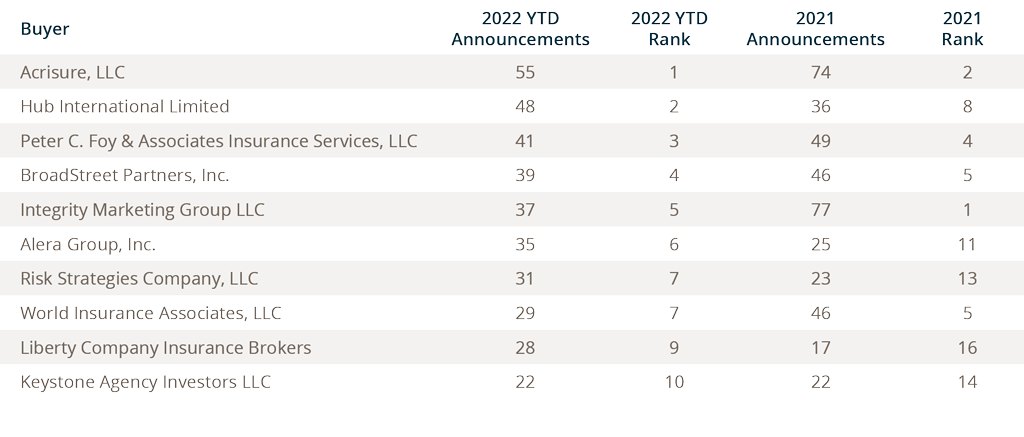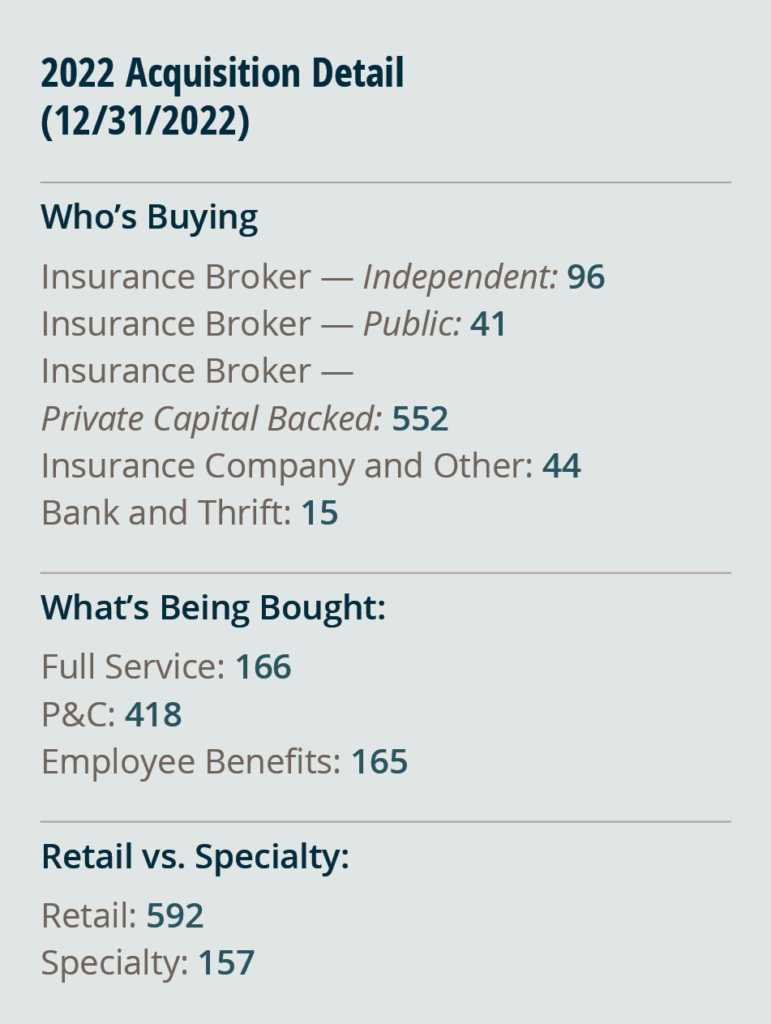 Notable transactions in December:
December 1:
K2 Insurance Services announced it has come to an agreement to secure new private equity backing from Warburg Pincus. K2 provides centralized services to MGAs with specialized programs in the specialty, commercial, transportation, international and personal lines spaces. The transaction will lead to the exit of current PE sponsor, Lee Equity Partners.
December 12:
Arthur J. Gallagher & Co. announced its acquisition of Mahowold Insurance, LLC (Mahowald). Mahowald is a St. Cloud, MN, based retail agency that offers commercial and personal products, as well as employees benefit packages for clients across the Midwest.