Vol II, Issue 3
Public Broker Performance
MarshBerry Broker Index
Get the latest performance and insights on the public broker composite.
MarshBerry Broker Composite Index March Update
Amidst the current market volatility, six public brokers, as measured by MarshBerry's Broker Index, saw a slightly better return vs. the Dow Jones Industrial Average (DJIA) during the period from January 1, 2023 through March 31, 2023. The S&P 500 index saw a higher return at 7.0% for the same period.
The following publicly traded insurance brokers are included in the Broker Index: Arthur J. Gallagher & Co. (AJG), Aon plc. (AON), Brown & Brown, Inc. (BRO), Marsh & McLennan Companies, Inc. (MMC), Willis Towers Watson Public Limited Company (WTW) and BRP Group, Inc. (BRP).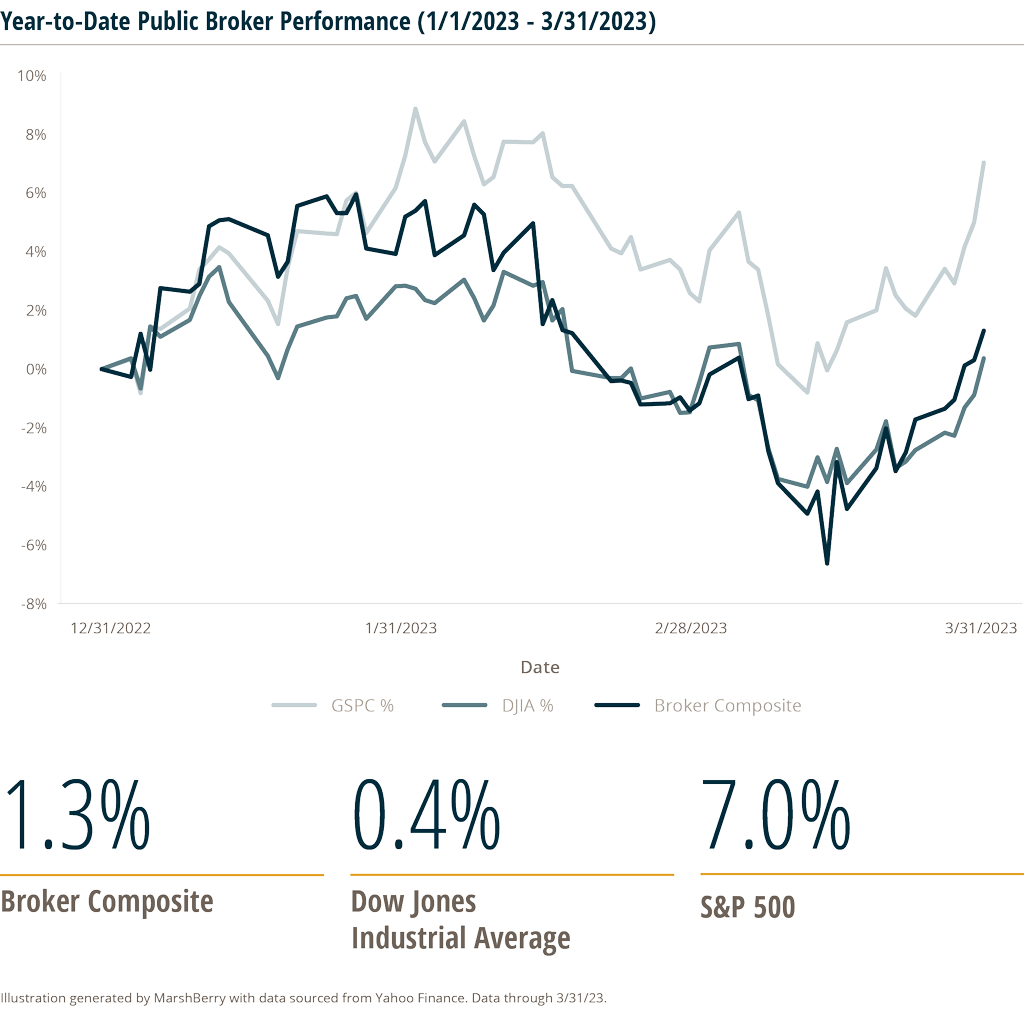 Public brokers have steady performance in 2023
Share prices of the public insurance brokers are steady year-to-date through March 2023, helped by their strong business models and resilience in different market environments. The Fed's ongoing interest rate hikes and investor caution about potential tighter credit conditions weighed on stocks. The public brokers tend to be well positioned to succeed in most market environments. They are benefiting from tailwinds like continued higher insurance rates and the need to maintain insurance coverage in uncertain economic climates.
The public brokers have larger recurring revenue bases and businesses that are noncyclical, supporting more stable growth during downturns. As a result, the volatility of the P&C insurance industry is generally less than other industries. We all have witnessed the resilience of this industry in periods of volatility, including in past market downturns.
While the public insurance brokers cited growing macroeconomic concerns on the most recent Q4 2022 earnings reports, they were generally optimistic around 2023 growth targets. Organic growth figures reported in Q4 2022 were comparable to slightly higher than those seen in the prior Q3 2022. Most brokers reported organic growth rates in a wider range of 5%-12% in Q4 2022 vs. 6%-8% in Q3 2022.
Management at many brokerages noted uncertainty about the macroeconomic environment at the start of 2023, but many also see their companies as being well positioned for continued growth. President and CEO of MMC, Daniel Glaser, noted that while the macro backdrop continues to be uncertain, MMC has a record of being resilient through economic cycles. AON Executive VP & CFO Christa Davies said on AON's Q4 2022 earnings call: "We remain confident in the strength of our firm and our financial guidance for 2023. Overall, our business is resilient, and our Aon United strategy gives us confidence in our ability to deliver results in any economic scenario."
Public Broker Comps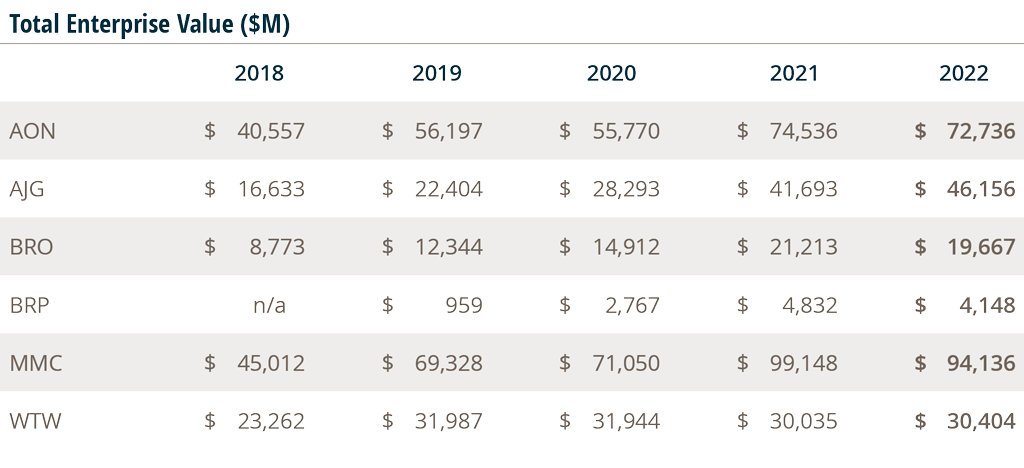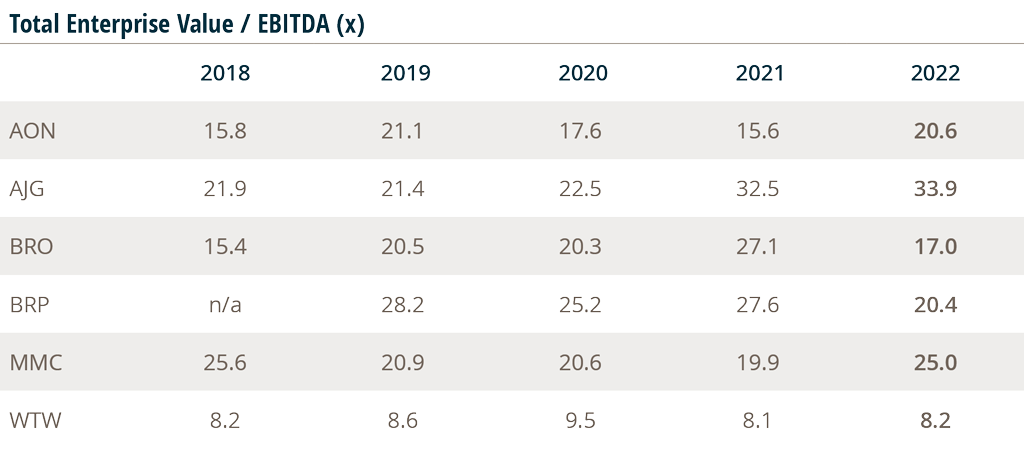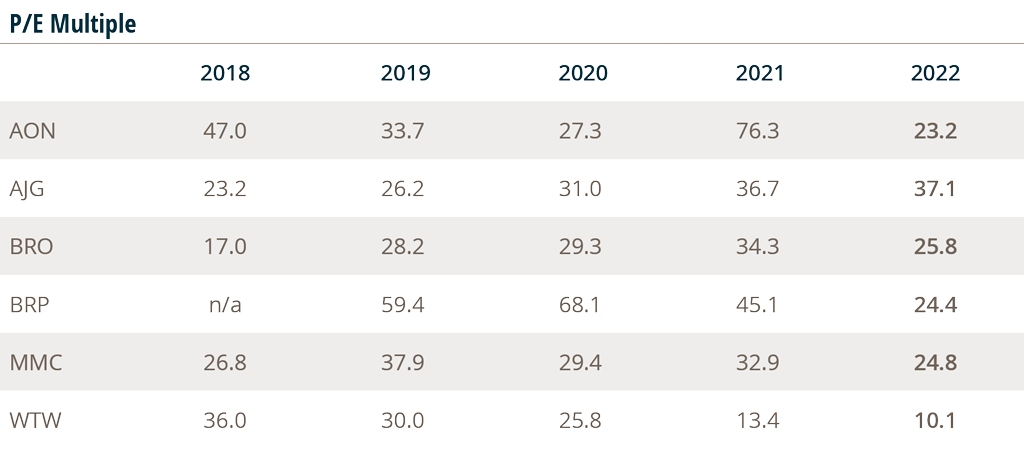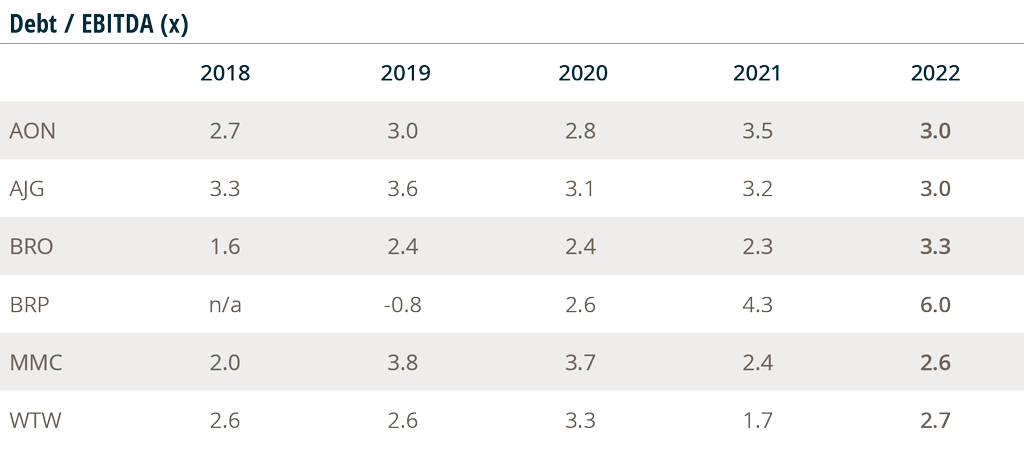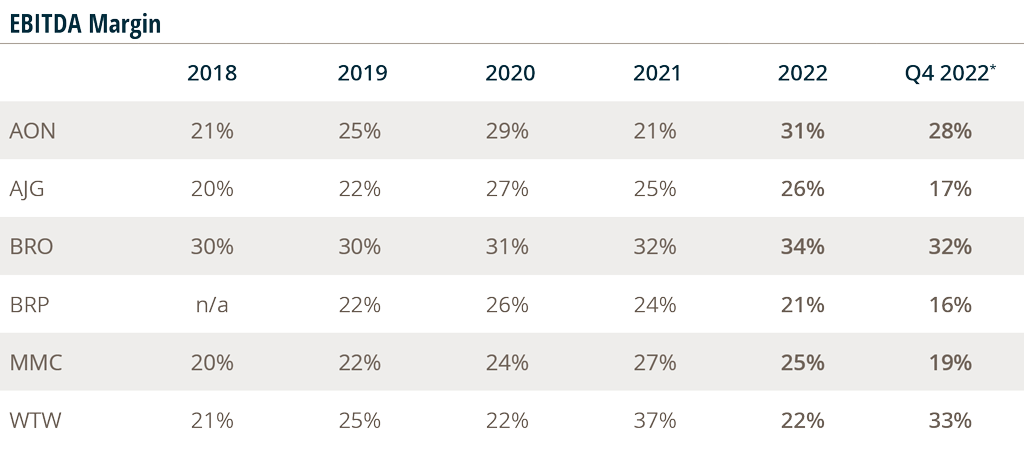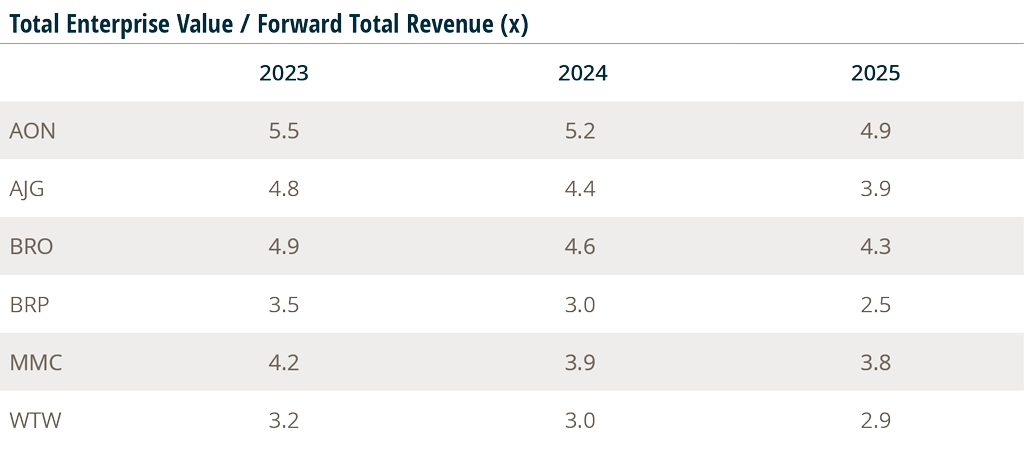 ---
The MarshBerry Broker Index is a composite of market data on the following companies, sourced from Yahoo Finance: BRP, BRO, AON, AJG, MMC, WTW. It is prepared for analytical purposes only. This information is not to be construed as an offer to buy or sell or a solicitation of an offer to buy or sell any securities, financial instruments or to participate in any particular trading strategy.
This earnings summary has been prepared by Marsh, Berry & Co., LLC. and is not intended to provide investment recommendations on any company. It is not a research report, as such term is defined by applicable laws and regulations, and it does not contain sufficient information upon which to make an investment decision. These materials are based solely on information contained in publicly available documents and Marsh, Berry & Co., LLC has not independently attempted to investigate or to verify such information.