December 2022
M&A Market Update
The Latest Deals and Insights
Who's buying? Who's selling? And why should you care? Phil Trem, MarshBerry's President of Financial Advisory, highlights the current M&A market and provides a look at transactions in November 2022.
M&A Activity in December Is Expected to End Strong
With modest declines in November's inflation numbers, and projections that the Federal Reserve may soften the next rate hike at the December meeting, what might this mean for merger & acquisition (M&A) deals for the final weeks of 2022?
With December historically being the most active month, and considering the tremendous headwinds this year has presented, it may be just enough positive economic news to help M&A activity to end 2022 on a strong note.
As of November 30, 2022, there have been 513 announced M&A transactions in the U.S. This represents an 18.5% decrease compared to this time last year. However, it is expected that the typical rush of year-end deal closings will bring the total number of announced transactions to a level closer to that of 2019 rather than 2021.
While the overall 2022 M&A deal numbers have declined compared with 2021, taking those figures at face value would not paint the entire picture. Q3 and Q4 of 2021 were the two most active quarters ever recorded, largely due to concerns around a possible federal capital gains tax increase in 2022. Had this not been the case and had some of those deals actually closed in Q1 of 2022, rather than get rushed in Q4 — the story line today would be slightly different. For argument's sake, if we take the average of Q4 2021 and Q1 2022 and apply that to the year-to-date (YTD) deal count — the current YTD decrease of 18.5% would be cut down to only 5.9%.
Debt markets still open for business, valuations still strong
Despite the rising cost and availability for debt capital, larger buyers are still borrowing and looking to make deals. The current economic environment is definitely impacting some but is mostly affecting the chatter and is possibly being used as a way to negotiate more favorable deals. But valuations are still holding for now, with multiples remaining at all-time highs. If valuations do start to drop, average firms will be the first to feel it. Firms that display strong organic growth, differentiated value propositions and smart leadership will continue to demand premium valuations.
Private Capital backed buyers lead the buyer classes
Private Capital backed buyers accounted for 378 of the 513 transactions (73.6%) through November. This trend is expected to remain consistent throughout the rest of 2022 and into the new year as dry powder continues to be deployed. Public brokers have remained consistent with last year in terms of total deal count making up 7.0% of total announced transactions.
Deals involving specialty distributors as targets currently account for 27.1% of the total 513 deals year-to-date. This portion of the target population is up 16.6% since 2021, a trend that is anticipated to continue as traditional retail brokers expand into the wholesale and delegated authority space.
Additionally, there has been a 55.9% decrease in deals completed by independent brokers compared to 2021. This can likely be attributed to historically high valuations in the market outpricing brokers who do not have private capital backing and sufficient capital to bring to the table.
Strong deal activity from the marketplace's most active acquirers has remained constant through November. Ten buyers accounted for 52.9% of all announced transactions observed, while the top three (Acrisure, LLC, Integrity Marketing Group, LLC, and Hub International Limited) account for 21.9% of the 513 total transactions.
---
52.9%
10 buyers account for 52.9% of all
announced transactions observed
21.9%
3 buyers account for 21.9% of all
announced transactions observed
---
Notable Transactions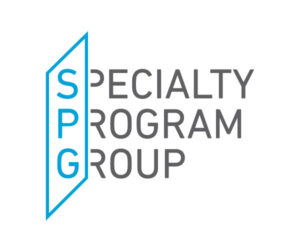 November 2
Specialty Program Group, LLC (SPG) announced its acquisition of the assets of Catapult Insurance Solutions (Catapult). Catapult is a managing general agency, wholesale brokerage and Lloyd's Coverholder that currently underwrites and administers premium in excess of $50 million through niche programs in the residential homebuilding space.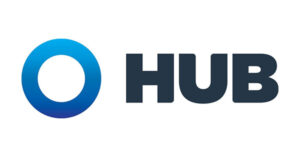 November 10
Hub International Limited announced its acquisition of Bridgecreek Investment Management, a wealth management firm focused on high-net worth clients, with over $1 billion in assets under management. HUB's Retirement and Private Wealth division continues to grow, with Bridgecreek representing the 12th wealth management acquisition to date.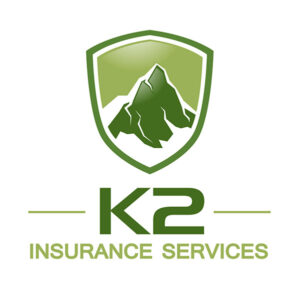 December 1
K2 Insurance Services announced it has come to an agreement to secure new private equity backing from Warburg Pincus. K2 provides centralized services to MGAs with specialized programs in the specialty commercial, transportation, international and personal lines spaces. The transaction will lead to the exit of the current private equity sponsor, Lee Equity Partners.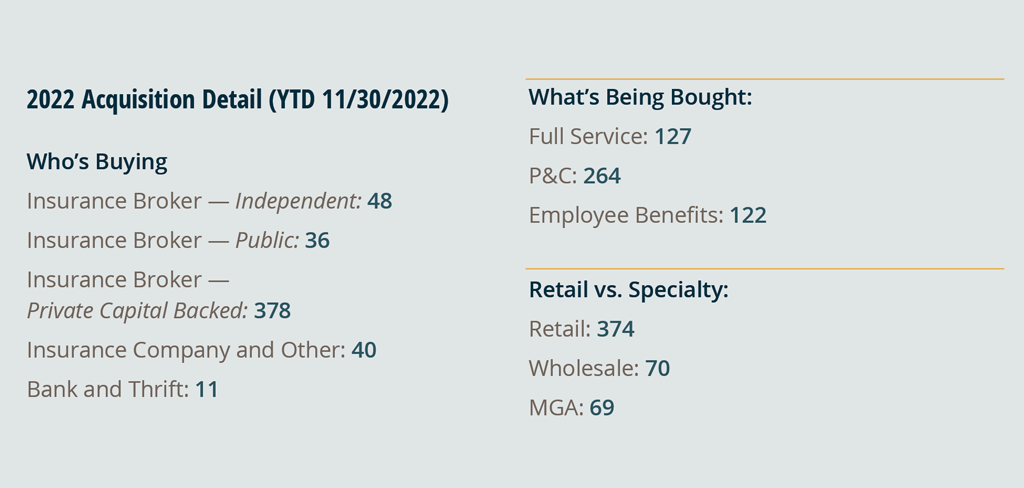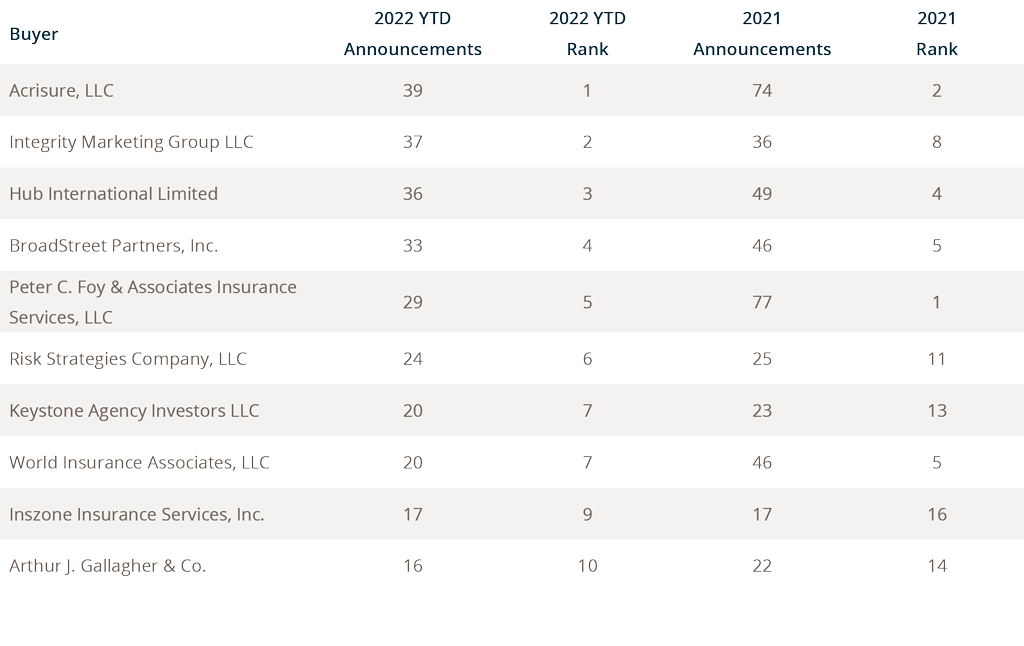 Source: S&P Global Market Intelligence, http://www.insurancejournal.com, http://www.businessinsurance.com/ and other publicly available sources. Disclosure: All deal count metrics are inclusive of completed deals with U.S. targets only. Scorecard year-to-date totals may change from month to month should an acquirer notify MarshBerry or the public of a prior acquisition. 2022 statistics are preliminary and may change in future publications. Please feel free to send any announcements to M&A@MarshBerry.com.