December 2022
Industry Insights
MarshBerry's Perspectives for High Performance (PHP)
Insights from our proprietary financial database to help drive your business.
Producer Retention
Producer retention in the insurance brokerage industry is an important metric, especially given the sharp increase in professional job openings that is creating a large gap between labor supply and demand.
MarshBerry measures how well insurance brokerage clients have retained their producers over the last 12 months. As you can see, professional job openings are at a 10-year high while our clients' producer retention is near all-time lows.
Total number of producers hired
---
The average total number of producers

=
Producer Retention Formula
The producer retention formula is the total number of producers hired this year divided by the average total number of producers this year (measured in headcount). This illustrates the proportion of producers retained within the last twelve months. This ratio can be beneficial when developing staffing plans. A low retention ratio can point to challenges with identifying the right talent, or a lack of an effective training and onboarding process.
As the labor market shrinks and more professional jobs become available, the hiring and retention environment will become more competitive for employers as workers have more options. Insurance brokers may want to proactively spend time designing a retention and compensation strategy that can have a significant impact on hiring and retention, perpetuation, and the overall performance of the business.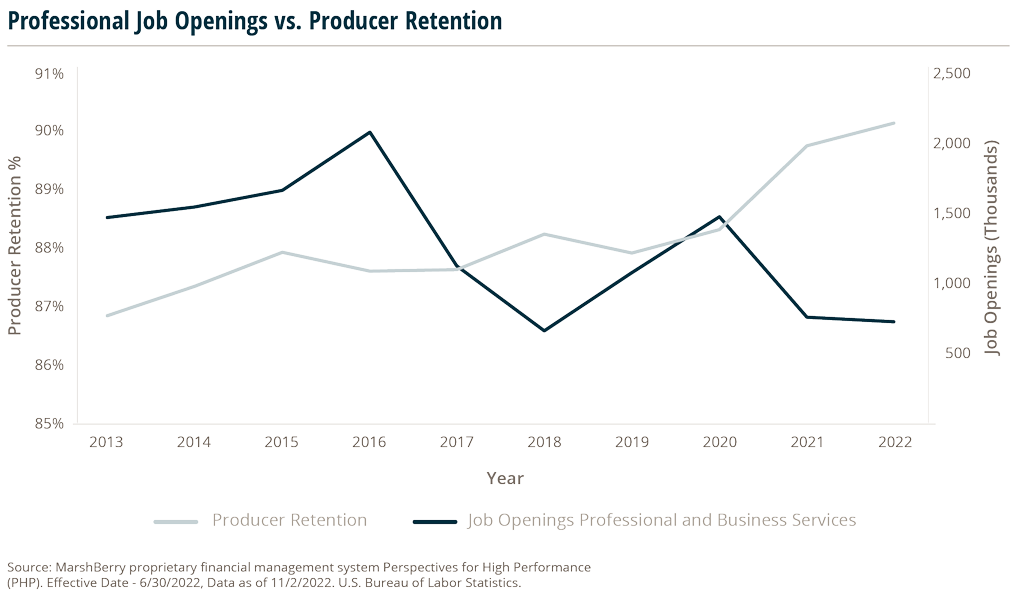 Here are some recruiting tips to keep you proactively ahead of the hiring curve:
Assess your current team. Who is likely to retire or turn over next? How many producers and service staff do you need to accommodate new business goals? Determine what boxes on your organizational chart will be open and when to outline your talent strategy.
Always be recruiting. Keep an eye out for talent that could be a good fit for your team in the future. Grab coffee with that salesperson you often run into at network meetings or that former colleague you admired even if you don't have a job posted. You may not know when you will need these people in the future.
Hire when found. In other words, be opportunistic. Sometimes candidates aren't quite a fit for what they applied for, but their skills could match a future initiative. Be open to the possibility that you might find more than one candidate for only one opening.
Brokers Taking New Actions to Attract New Talent
Following its recovery from a pandemic-induced dip, the civilian labor force level has remained relatively flat since February 2020's pre-pandemic mark, just short of 165 million people. In comparison, from 2009 – 2019 the labor force averaged annual growth of 1.3%.1
While some of the lack of growth in the labor market may still be a result of workers remaining sidelined due to COVID-19 related constraints, much of the stagnation can be attributed to employees reaching retirement age and leaving the workforce.
In addition to the U.S. Bureau of Labor Statistics data displaying record high numbers of job postings, results from MarshBerry's 2022 Compensation Pulse Study confirm that the stagnant labor market is also affecting insurance brokers. Over 80% of respondents said it was "somewhat more difficult" or "significantly more difficult" to recruit and attract new talent in 2022 compared to recent years.
In the survey, 4 out of every 5 respondents indicated they had increased starting salaries in 2022, and three quarters stated that they offered remote work options to attract new workers.